Working With Us (Constructing the project)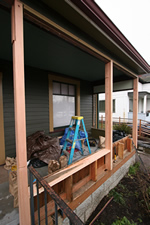 The project will be executed in an orderly fashion according to the schedule we have agreed upon. As work proceeds, our use of sustainably harvested lumber, quality methods of construction, and attention to detail will ensure that your project is build with lasting integrity.
The work and the payments will keep pace with each other. Change order payments will be added to the regular payments as the changes are completed. At any time you can be assured of knowing where you stand in terms of the cost involved.