Working With Us (First visit)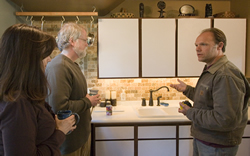 After talking on the phone and determining if we are a good fit for your project we will make a free visit to your home. Here we will go over your project in more detail, taking measurements, offering suggestions and advice, and getting a better feel for what you want to accomplish.
If the first visit reveals the need for more detailed design work, then creating a design may become a first phase of work, separate from a construction proposal.