New and Better:
Early History of the RE Store
A few years ago the Bellingham institution known as the RE Store moved to it's new and permanent home at the corner of Meridian and Broadway . The RE Store is the award winning non-profit recycled building materials store that annually diverts hundreds of thousands of pounds of waste from the landfill and resells it as incredibly affordable building materials. This business, which has for years been the largest square footage downtown business in Bellingham, began as the twinkle in the eye of founder Bruce Odum. But the beginning of the RE Store is tied up with a defunct, but seminal, organization I was a part of in the early 90's, the Whatcom Community Builders Guild.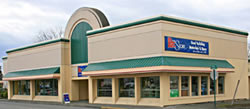 Sometime in about 1990 my friend and fellow contractor Vince Janigo called together a group of young local carpenters and contractors for a potluck meeting to discuss the current trends in the building industry in Whatcom county. I remember, among about 10 or so in attendance that night, many who over the years have remained close friends and work associates – Dan Coffey, Kent Chasson, Jay Conway, Drew Windsor, Bruce Odum, Rob Staveland, and others.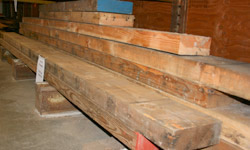 A building boom at the time was driving up the price of housing through speculative building. We all could relate stories of greed and wanton waste evident every day during the course of our work which seemed to be "business as usual" in the building trades. New information was filtering out through newsletters and magazine articles about less wasteful and healthier concepts and practices. This was the early days of what is now known generally as "sustainability", but before cell phones and the internet. It was hard to get good information about the wide variety of new alternatives coming to light in the areas of affordable housing, recycled materials, and non-toxic materials.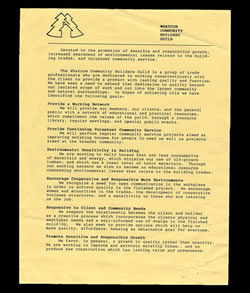 Out of that first meeting a group was formed, the Whatcom Community Builders Guild, a name which seemed to evoke the full range of our concerns. We styled ourselves as an educational organization – educating the public and also ourselves about these growing issues. Recently, I was searching through boxes in the back of my shop, and I found a copy of the original mission statement for the group, which reflected a wide set of topics – affordable housing, workplace relationships, recycled materials, waste reduction, non-toxic materials, etc.
Our approach was to have monthly meetings, at which we always had a guest speaker and a focus topic, as well as regular business. I had the position of Outreach Coordinator, getting the guest speakers lined up and fielding any communication with the press. It was an exciting time teaching ourselves, and others, about the full gamut of things which now fall under the sustainability umbrella. Our regular monthly meeting place was at a wood working shop located in the oldest brick building in Washington State, built in 1859 and used as the first territorial courthouse. After a couple years, however, the inevitable grind of work and life took its toll, and the group fizzled out. But not before spawning an important offspring.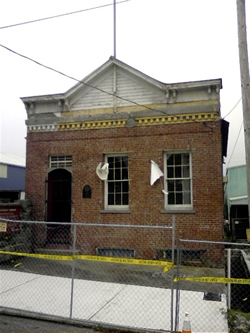 In the last six months of the Builders Guild Bruce Odum had formed a side committee exploring the idea of starting a recycled building materials outlet. We often talked about some magical place where a contractor could drop off all the clearly usable and undamaged material that always just ended up in the landfill or incinerator. How would it work? Where would it be? The primary lumber yard in town, Sash and Door (now Builder's Alliance) had recently vacated their sprawling downtown yard for newly built accommodation on Hannegan road, and the old building lay empty. Wouldn't that be the best place possible? These discussions always ended with laughter. What kind of pie-in-the-sky idea were we thinking of? How would this kind of thing happen?
It was a leap of faith to imagine people like ourselves, tradesmen with no capital, time, or energy to somehow run a used material lumberyard with dubious potential for success. The discussions we had about this usually never got beyond the dreaming stage. But that's not how Bruce was thinking about it. A couple years before in Seattle he had actually made an unsuccessful stab at grant funding for something just like this. He dusted off the old proposal and some members of the Guild, including myself, began to meet and make plans. Then came one of those forward thinking initiatives that sometimes float very occasionally down the stream of government like a raft awaiting just the right passenger.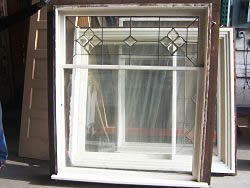 The Whatcom County Solid Waste division, headed by Jack Weiss, an unglamorous corner of local bureaucracy dedicated to managing garbage, put out a grant program for innovative solutions to solid waste problems. Recipients received about $4000. Bruce took the recycled building materials store concept to Carl Weimer at the local environmental group Resources. Trying to get the attention of government money as a small contractor/carpenter seemed futile. The clout, expertise, and administrative oversight of an established non-profit gave the project the missing ingredient it needed. As a non-profit dedicated to reducing public solid waste the business proposal took on the all-important elements that have carried it forward to this day. "Donating" garbage for tax credit or store credit, which translated into money back to the non-profit from sales, helping to fund further waste education efforts throughout the schools and community, was the win-win formula Bruce needed to gain grant approval.
The RE Store was born in a storefront on Meridian near Bellis Fair Mall. The doors were open, the sales floor was empty, and Bruce had one employee. But somehow the word got out. Whatcom County residents, it turns out, love this sort of thing – hording junk! Before long the rooms were filled with hollow core doors, cabinets, old sinks, and lighting fixtures teetering on racks and shelving made of – you guessed it, recycled materials. What could you charge for this stuff? It was unexplored retail territory. A set of items would disappear and you couldn't call the warehouse and order up more to fill the appropriate shelf space. Instead something new, strange, and physically awkward to move around that had never been sold before would appear in its place. The business adapted, and the best mechanism for that process was humor.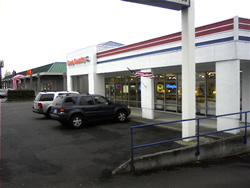 Walking through the isles of the store it was impossible not to notice the bizarre and coincidental juxtapositions of things. Architectural wonders sat next to strange monolithic display shelving from department stores. Crazy plumbing and electrical parts hung along with a century of lighting fixture designs as some sort of spontaneous displays of folk art. Customers came just to poke around, sometimes stopping by daily to catch the latest find before it was whisked away, never to be seen again. And they were often met by the most humorous store displays and signs, informed by the irreverence and serendipity suggested by the surroundings. By four months Bruce was able to pay back the grant. And the business sailed forward.
A few years after first opening it was evident that the location and space were not working and something needed to be done. Somehow time had changed and it was no longer an unrealistic joke that this type of thing could possibly work. However, moving to a bigger space was certainly a risk for a business venture with little precedent. But it was the inevitable course of events. Additionally, the stores growth was coupled with a backlash movement against the shopping mall mentality that saw a number of businesses moving back into the downtown core which had been almost completely vacated at the opening of Bellis Faire Mall. And so the store moved to the building that we all had laughed off as unrealistically unattainable a few years before, the old Sash and Door in the Old Town section of Bellingham.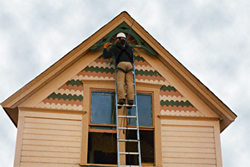 Along with the move came some important changes, the most important of which was the creation of a full time salvage team that did not work on the sales floor, but instead took trucks and tools to houses and brought back building materials. I started working for the store as it made the move to the new location as the first field crew supervisor. Dave Bennink acted as manager of the division, setting up jobs and organizing the workflow. We gathered together a ragtag collection of used tools and vehicles, a growing force of workers, and an ever-widening geographic circle of activity.
Before a year was out the majority of the work involved traveling to Seattle. Larger cities have more and better things than smaller cities, and garbage was no exception. Our first really big Seattle job at the Highland Park school renovation was an experiment in completely new territory. Living in a donated travel trailer onsite, the job grew from a week or two, to six full weeks, as we and the large commercial contractor Dave had convinced to let us on site, got used to what we could do for each other. Leapfrogging around asbestos abatement areas we first tore out moldings, then cabinets, then maple flooring, then architectural cornices, then whole pediment structures around huge doorways, then bricks pealed off the two story flanks of the building, heating vents, faucets, stage curtains, and doors from massive boilers. We were so excited by the work that after hours, at night, we would roam back through the huge school building, exploring all those places only known by generations of janitors, finding treasures like fancy heating grates, brass thermostats, roof vents, and ductwork.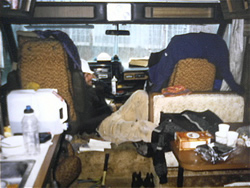 Every day brought new challenges of how to do things none of us had done before. One day we were given permission to dismantle two fifty-foot long exterior timber-frame covered walkways. How should we do it efficiently and safely? If we dropped it onto the ground by force all the usable material would be trapped underneath the roof structure and the dismantling process, pealing through layers of roofing, would be laborious. If we tried taking it apart it by hand we would be faced with lowering huge beams precariously on ladders. But if we could somehow magically flip the whole thing over onto it's back… We strung a series of ropes to the column bases and hooked them to the back of Goldie, our trusty decrepit 1970's pickup. I revved the motor hard and waited for the "all clear" signal. Dropping the clutch and pealing out I saw, gloriously, in the rear view mirror the whole structure trip up like a giant spider stubbing it's toe and neatly land on it back, breaking conveniently down the middle of it's spine. Within an hour all the beams were dismantled and stacked.
Our performance at Highland Park caught the attention of the Seattle School district, just beginning a multi-million dollar renovation program on twelve schools over four years. We got the rights to come into the projects at the beginning and do salvage work undisturbed, as part and parcel of the project schedule, rather than as bothersome hindrances to other contractors. And the results – an average of six semi-loads of material carted away and $100,000 in tax credit receipts per school issued from the RE Store for the "donations". All of this with used tools, semi-skilled labor, and no precedent for how to do the work.

After two and a half years I left the RE Store to go back to general contracting and remodeling. Our weeks had become a grind for me of working in Seattle for long hours and virtually living at the downtrodden, funky, Thunderbird Motel on Aurora Avenue. The RE Store was opening a second store in Ballard to absorb a great portion of the flow of material coming out of Seattle. Within a year or so after I left the weekly exodus to the big city had ceased. A full time crew was hired down in Seattle and the business began evolving and shifting. The field crew old timers who came on shortly after I did stayed on and found more sustainable work within the overall organization. Marge Leone directs the Bellingham field operations. Jeff Masson acts as the stores main carpenter, occupying a shop space in the Bellingham store and producing imaginative displays for the sales floor out of recycled items. Dave Spangler, one of the stores very first employees at it's original location, runs "Spangledesh" the area where myriad dropped off items are made ready for sale. Jason Darling now administrates the website for the organization. Nate Moore took on the Bellingham store manager responsibilities for a long stretch before moving on to other things. And Dean Fearing moved up to oversee the entire operation for many years before moving to Kulshan Community Land Trust.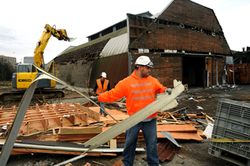 The old store on Holly Street has been deconstructed and hauled away. The new Bellingham Store is just opening and from the looks of it, it will be better than any of the RE Store's earlier incarnations. The stores hosts many community events, including the Rocking the RE Store shindig, and the Haute Trash recycled art show. This business shows how even the wildest ideas have a chance of succeeding if only a group of dedicated and industrious people grab hold of that idea and run with it, while laughing!